China's renewable subsidy formula and power price structure have been through a rapid and rather complex shakeup in the past two years.
Last week, the Ministry of Finance (MoF) unleashed yet another new measure, mainly addressing offshore wind and solar thermal but also clarifying some regulatory matters.
Beijing has more or less completed the design of a brand new renewable pricing, by the release of this policy and a few others since 2018.
The keyword is "subsidy-free." Onshore wind and solar will already meet grid parity next year. And for offshore wind, only two years left before the industry need to survive without any more national financial support.
Since 2019 Beijing kicked off the pricing reshuffle, the renewable subsidy setup has become somewhat complicated, with project approval time and grid-connection time both influencing factors to the project on-grid prices. We have summarized the pricing and subsidy set-ups from 2018 to 2022 in the latter part of this article, let's dive in.
No Subsidy for Incremental Offshore Wind and CSP Projects
Last week, the Ministry of Finance (MoF), the National Development and Reform Commission (NDRC), and the National Energy Administration (NEA) issued another policy regarding the arrangement of the renewable subsidy.
New measures introduced in this policy include:
The collection (income) of renewable subsidy cash pool will determine the subsidy spending on renewable projects.
Subsidy payout to renewable projects will be conducted annually; there will be an annual limit for the total subsidy payout.
China will no longer subsidize new offshore wind projects and solar thermal projects
"Existing" offshore wind and CSP projects—those secured approvals before 2019—are still qualified for the national subsidy if "all of their units" could complete grid connection before the end of 2021
There will be no more "renewable subsidy catalogue" released. Prior to this policy, the MoF is in charge of reviewing eligible projects and enlisting them in a "subsidy catalogue." Only projects included in these "catalogue" would be able to receive the subsidy. However, over the years the MoF is hesitant of registering new projects and only released seven batches of eligible projects between 2013-2016, which only account for a small portion of total renewable projects connected to the system.
The grid companies are now in charge of screening and registering projects eligible for the national subsidy.
By the new policy, China's offshore wind feed-in tariff and pricing structure is changed, again. See below our summary on the pricing arrangments for offshore wind projects between 2019-2022.


Meanwhile, the policy emphasized and followed a series of principles previously established by the regulators between 2018-2019
A Gradual Reduction of Subsidy: incremental renewable projects will face less and less support
Zero-subsidy From 2021, 2022: wind and solar projects will achieve grid parity around 2021-2022.
Distributed Projects Enjoy Longer Supports: for distributed renewable (e.g. rooftop solar) projects, Beijing will still provide a fixed amount subsidy between 2021-2022
Green Certificate and Alternative Trading Measures to Help: Beijing will advance green certificate trading and dispatch priority trading, two mechanisms expected to help renewable projects to secure extra revenues
Renewable Feed-in Tariff and Subsidy Pricing Becomes History
To fully grasp the impact of the new measure, some basic understanding of China's existing feed-in tariff system is necessary. I have touched upon the set-up and its issues in a previous report. [READ MORE about the FIT Mechanism]
China has introduced feed-in tariff (FIT) pricing mechanism to the onshore wind, solar PV plants, distributed solar and offshore wind sectors since 2009, 2011, 2013 and 2014, respectively.
Within this FIT mechanism, the national price regulator NDRC set different FIT rates for varied renewable projects, which reflect the different costs to tap into these resources. Essentially, the pricing formula is a cost-based model, taking into account the regional average project cost and a fixed internal rate of return (IRR)—8% usually.
As a result, renewable investment decisions in China are often on the basis of more than 8% IRRs. [READ MORE on Fundamental Change on the IRR Investment Principle ]
Prior to 2019, renewable projects were granted a 20-year fixed FIT rate based on their grid-connection time. Specifically:
onshore wind: four types of FIT rates
offshore wind: two kinds of FIT rates (intertidal, or projects with >10km distance from shore)
mounted PV power plants: three types of FIT rates
distributed solar: previously given the same prices for rooftop solar for commercial use and residential use
solar "exemptions": distributed projects in the "front-runner" or "poverty alleviation" programs are granted higher FITs
The price regulator has been gradually lowered the FIT rates over the years to reflect the learning curve of the sector. But the reductions were considered gradual (or slow). Onshore wind projects and mounted solar had previously been through only three times FIT rate adjustment.
For renewable power plants, the incomes from selling power are payable in two parts:
part-1: payable when electricity sold to the grid, at a fixed price equal to that of the local coal-fired power benchmark tariff. It is paid monthly by the grid operator.
part-2: the renewable subsidy part, which equals to the differences between the renewable FITs and the coal-fired benchmarks. This subsidy amount is paid out separately by the Renewable Energy Development Fund (REDF) managed by the MoF.
However, due to the mounting deficit in the REDF, Beijing has been delaying the subsidy, part-2, payment to renewable projects listed in the catalogue. Moreover, it also slowed down the release of new "subsidy catalogues" inclusive of the eligible plans. As a result, a majority of the wind and solar projects in China, in fact, either receive no subsidy at all for the past years or face severe payment delays. The whole value chain is, thus, under mounting financial pressure and the threat of insolvency. [READ MORE on the Reason Behind China's Renewable Asset Sale Wave]
To address this black-hole alike REDF deficit, the three regulators have re-design the pricing and subsidy measures, pushing new projects to decouple from the national subsidy.
New Renewable Tariff and Pricing Structure
China's renewable market is now moving toward a brand-new zero-subsidy era, with utterly different pricing formula.
We have summarized the pricing arrangement of onshore wind and solar projects from 2016 to 2022.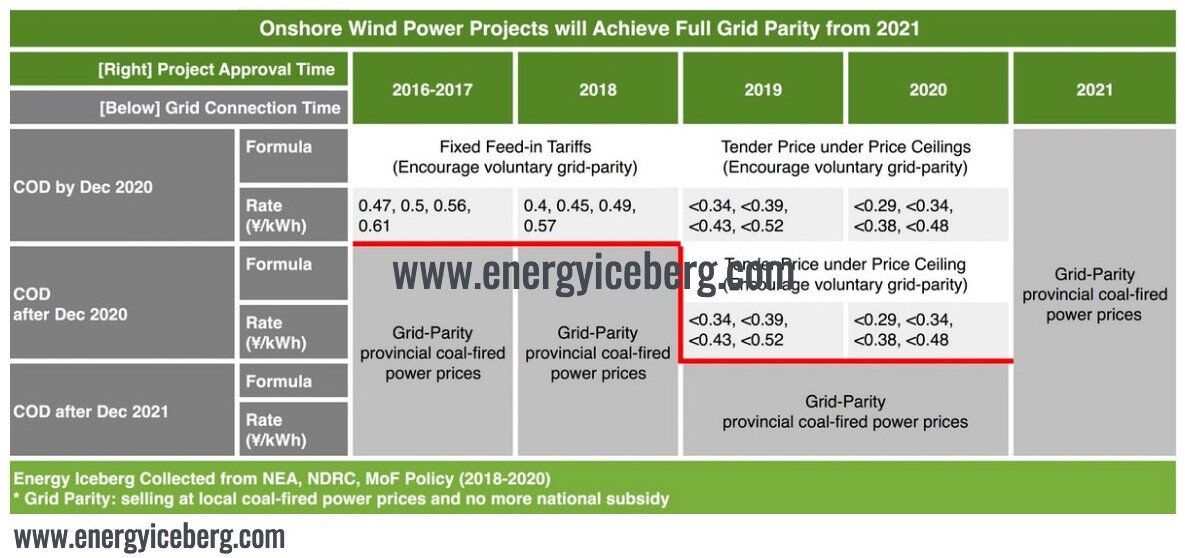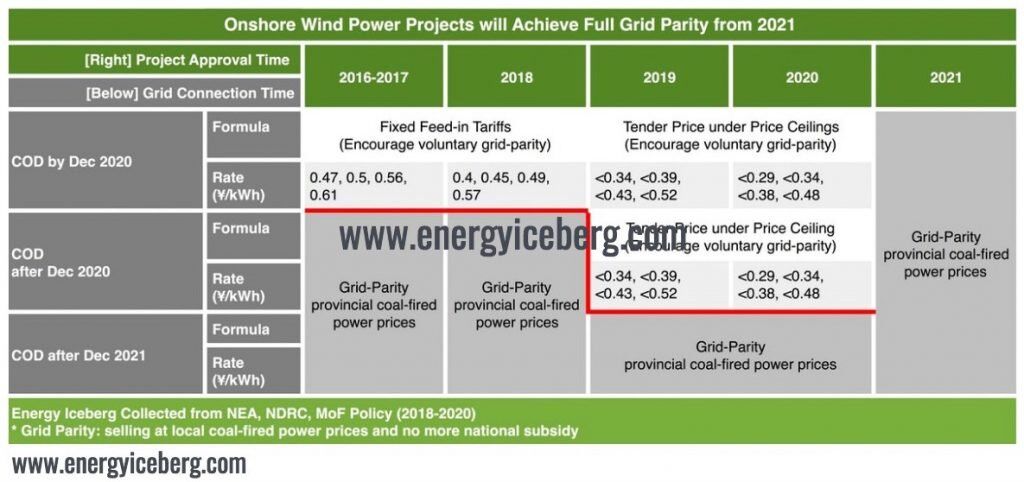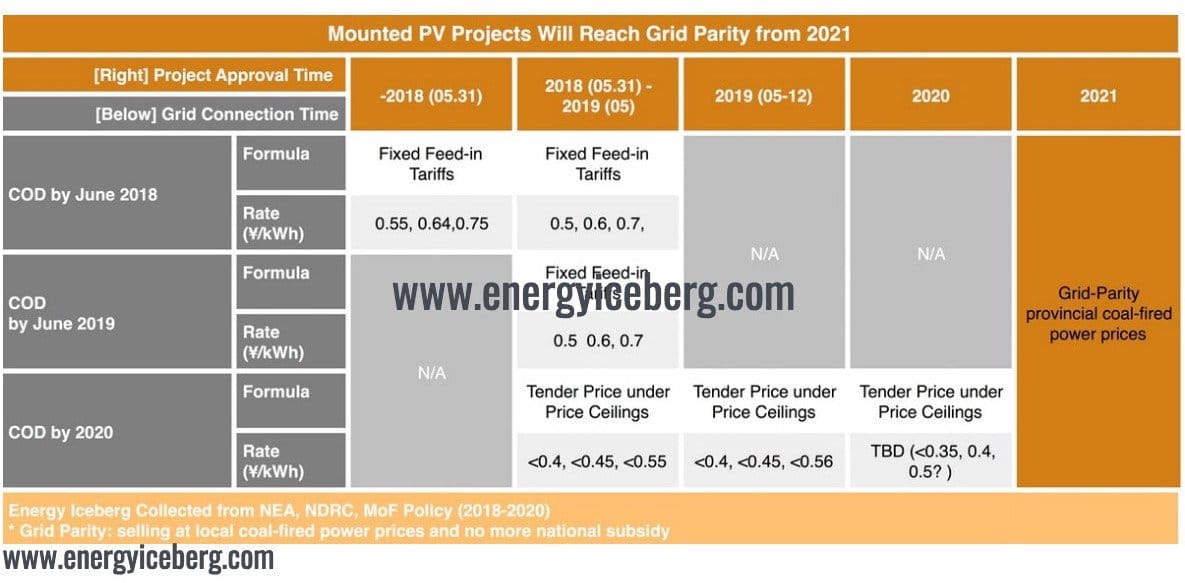 Implications of the New Policy
The shake-up upon renewable pricing is meant to solve the deficit issue of China's REDF. However, the current measures taken—to limit new project growth and their subsidy demand—may have questionable results.
Delay and lack of subsidy payment will continue to haunt the industry: the most critical element leading to the insufficient subsidy cash pool, in our view, is the inefficient collection of renewable surcharges. However, Beijing has been highly reluctant to raise electricity surcharges on consumers. We DO NOT expect Beijing to increase renewable subsidy surcharge in the coming years. The lack of funding will continue to haunt the industry. [Read More on the Consequence, as in, Renewable Projects Set off Asset Sales Wave ]
Offshore wind and CSP industry will embrace some significant financial challenge: although over 40GW offshore projects rushed for approvals before 2018. Majority of these projects are unlikely to achieve the required grid connection deadline (2021 Dec). We expect 2/3 of the pipeline projects would face a reduced of FITs and are under threat of cost overrun and lowered return. [Read More about the Offshore Wind Installation Rush ]
Distributed rooftop solar needs to seize the unique window opportunity, as the table below shows.