China has kicked off another round of heated ultra-high voltage (UHV) grid construction.
The past 2020 marks an unexpected U-turn of Beijing's policy regarding power infrastructure construction.
In late 2019, the Chinese energy regulator announces to strictly "control" grid investment and expansion, a policy designed to weaken the dominant grid operators' market position.
However, just a few months later, Beijing quickly adjusted its proposition regarding grid investment, following its top strategy shift to boost "New Infrastructure" investment.
While the previous policy—curbing grid investment—was meant to speed up electricity market reform. The policy U-turn underscores a more urgent priority for the country—to maintain or stimulate economic development amidst worsening geopolitical tension.
China's UHV Investment: Impacts
By that U-turn, China is likely to continue its leading role in grid infrastructure investment and technology development.
Meanwhile, grid expansion could provide better transmission channels for the country's massive renewable power resources.
However, whether the grid expansion is enough for a likely renewable "great leap forward" is questionable.
Notably, renewable developers in the country promote a plan to add some 70-100GW new turbine and PV capacity from now to 2030. A large portion of the new projects are centralized units, located in the remote northern or northwestern part of the country.
Expanding the grid network to cater to these future power capacity remains a challenging task.
Heated UHV Construction Revamped
As of late 2020, China has 14 UHV alternating current (UHVAC) lines and 16 UHV direct current (UHVDC) lines in operation. [For UHVAC data, contact Energy Iceberg for more info.]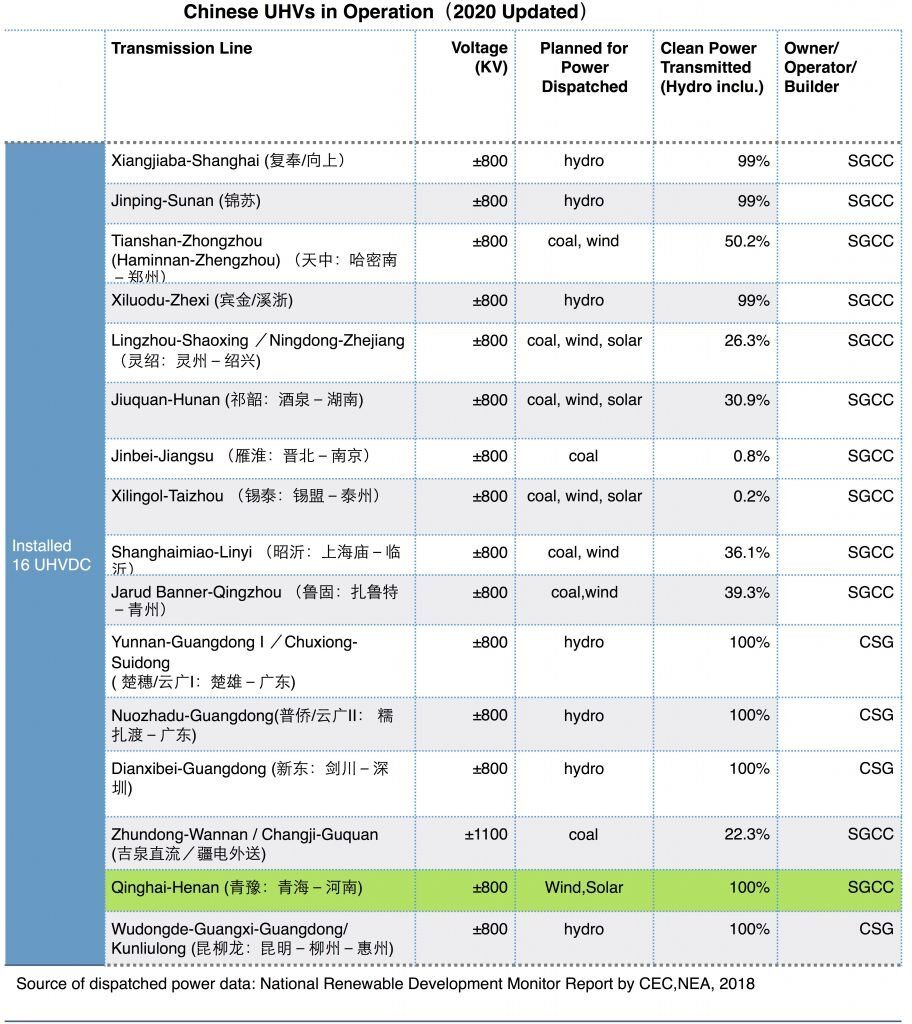 State Grid Co of China (SGCC) develops, owns, and operates all but four of these 30 UHV lines. While the second-largest grid operator, China Southern Power Grid (CSG) develop and runs the remaining four, all of which are UHVDCs to transmit hydropower from the southwestern provinces to the eastern Guangdong. [READ MORE: about State Grid Company of China or SGCC]
More would appear on that list. Two projects—approved back at 2019—are still under construction. And in 2020, regulators approved ten new build lines.
As of Nov 2020:
Installed UHVs: 14UHVACs and 16 UHVDCs (26 of SGCC and 4 of CSG).
Under Construction: 2 UHVDCs
New Built Approved: 5 UHVACs and 5 UHADCs (SGCC 2020)
China's Grid Construction History
The approval of the 10 new build grids came as a surprise, but it signals that China stepped into another stage of UHV expansion.
Previously, the Chinese power market had been through four rounds of UHV grid expansions:
Testing Phase (2006-2010): the first HVDC and the first HVAC connection has been established, as the Chinese electricity market faces skyrocketed power demand
The First Wave—the Strong Grid (2011-2013): two HVACs and three HVDCs kicked off construction in this period, as the power regulator and the grid companies are in favour of establishing a "secure and strong" grid network in China.
The Second Wave—Pollution Combat (2014-2017): a total 16 UHVs (AC and DC each taking half) begun construction, against the backdrop of Beijing unleashed the "Air Pollution Combat Plan."
The Third Wave—(2018-2020): the National Energy Administration approved 3 UHVAC and 4 UHVDC projects, all of which have begun construction before August 2019. Five of these projects were completed in 2020. Initially, Beijing did not indicate plans to approve more UHVs after the seven but, evidently, changed its mind after the COVID-19 hit in 2020.
The Likely Fourth Wave (2020-): 10 UHV projects of SGCC secured approval in 2020, while more could be added.
Renewable to Benefit
Renewable power has been benefiting from the UHV building effort—but only recently and the positive effects are gradual.
Prior to 2018, most of the grid construction was meant for transmitting thermal or hydropower from the west of China, with limited grid connections allocated to renewable power.
The situation—heavily criticized—has seen some changes in the past two years.
According to State Grid's data, in 2019, renewable power transmitted has accounted for more than half (52.4%) of China's total UHV transmission amount (448.5GW). However, note that the "renewable" here include hydropower.
Still, last year, the first RE-only UHV line (Qing-Yu: Qinghai-Henan) begun to operate.
As Beijing committed to race to "emission peak" and "carbon neutrality" by 30/50, the grid operators show clear attitude shift to promote renewable in the UHV construction. It is clear that more UHV plans would be suggested for renewable transmission purpose.
Meanwhile, China's northern provinces (Inner Mongolia, Qinghai, and Xinjiang, especially) have engaged in a new race of building mega renewable bases.
These "renewable hybrid power" bases– all are GW-size for a single project–are all centralized energy complexes in the remote areas without proper power demand, requiring long-distance grid to transmit to China's eastern economy centres. [READ MORe: China's Renewable Plus Hybrid Energy Bases Construction Rush]
The new round of RE construction would require more UHV grid transmission to come for the "rescue". [READ MORE: China's Renewable Curtailment Issue]