We have an interesting mix of news updates to share with you on China's clean energy industry this week. Some of the highlights in our point of view:
Net-Zero: China kicked off the first green electricity trading; State Grid pledged to invest $350 Billion in upgrading the ultra-high voltage and other grid systems.
Renewables: Prices of China's onshore wind turbines dropped to a historical low against the drastic market competition in the post zero subsidy era.
Hydrogen: hydrogen-fuelled ships and liquid hydrogen equipment are the two new areas attracting investment and witnessing more activities recently. Last week China Three Gorges launches its first fuel cell ship to be used in the three gorges dam, and SpaceChina announced the development of the first-of-its-kind hydrogen liquefier.
Energy Storage & Battery: China encourages private investment into the pumped hydrogen storage sector, of which the total installed capacity is expected to rise to 62GW and 120GW by 2025 and 2030–2X and 4X of the 2020 capacity.
Scroll down to check out the 9 updates that we considered noteworthy last week.
For those who do not know us: China Clean Energy Syndicate is a weekly news update project developed by Energy Iceberg. We also offer free analysis on China's renewable, electricity market, hydrogen, and energy storage. The analytical articles are shared every fortnight. Check out our website to subscribe:
https://energyiceberg.com/tip-of-the-iceberg/
---
Net Zero Investment
China's Green Electricity Trading "Power-up"
China last week has kicked off a nationwide pilot program to trade renewable power, in a bid to encourage renewable to take part in the electricity market.
The program permits electricity generators to sell green power directly to end-users. Previously, China did not have such a nationwide trading scheme for renewable power.
The two grid operators, State Grid and China Southern Grid (CSG), launched the green power trading event in Beijing. A total of 259 market entities from 17 provinces participated and completed transactions of 7.935 TWh of electricity.
The total traded electricity in the operating area of the State Grid is 6898 GWh, which is traded at prices ¥0.03-0.05/kWh higher than the local grid-parity prices.
State Grid Pledge $350 Billion New Investment on UHVs, Energy Storage
In the next five years, State Grid will spend $350b (about ¥2 trillion) to upgrade the power transmission network and to promote clean and low-carbon power transmission, Xin Baoan, CEO of State Grid last week suggested on the International Forum for Energy Transition 2021.
An investment of $9b (approximately ¥50 b) will be spent on the R&Ds of ultra high voltage core technologies. In the awakening of the news, share prices of 55 listed companies in China A-share related to ultra-high voltage (UHVs) business rose.
State Grid also reveals the following information regarding energy storage and renewable power network in China:
By 2030, the installed capacity of pumped-hydro storage in China would increase from the current 23.41 GW to 100 GW. The installed capacity of renewable energy would exceed that of coal power and become the largest power source.
The total adjustable transmission capacity of State Grid's power network will increase from the current 33.2 GW to 70 GW in the next 5 years.
By now, State Grid has built the world's largest smart vehicle network, with 1.3+ million EV charging piles connected in. It has formed a highway fast-charging network covering 176 cities across the country.
Wind Power
Wind Turbine Price Continues to hit Record Lows
Wenshan and Qujing projects in Yunnan Province of China General Nuclear Power Group (CGN) recently opened bids. 9 wind turbine OEMs have taken part in the bidding, which had created a recent low record of turbine price.
The lowest quotation is ¥1890/kW, setting a record low in China's onshore wind market.
The average price of wind turbines above 4MW in China from January to June was ¥2,473 /KW.
Hydrogen & Fuel Cells
A Review of China's New Energy Vehicle (NEVs) Subsidy,
1300+ Fuel Cell Vehicles (FCVs) Have Received Funding
The First Department of Equipment Industry of the Ministry of Industry and Information Technology (MIIT) carried out a review of the 2016-2020 new energy vehicle promotion and application subsidy fund liquidation.
The report revealed that from 2016 to 2020:
A total of 14 automotive companies with FCV products have applied for subsidies for 1,303 fuel cell vehicles (FCVs).
Among all the applicants, 1,302 FCVs have passed the expert review and received subsidies.
The total subsidy amount was ¥562.94m for these FCVs. On average, the subsidy is ¥429,200/vehicle.
Sinopec Kicks off the First MW-size Power-to-Gas Project
China Petroleum & Chemical Corporation (Sinopec), Asia's biggest oil refiner, has recently launched its first MW-level power-to-gas demonstration project in Zhongyuan Oilfield, Henan province.
A proton-exchange membrane (PEM) electrolyser of 2.5 MW will be installed, of which daily ultra-pure hydrogen can be 1.12 tonnes. The PEM electrolyser will ensure a hydrogen purity level of 99.9995%. The project is expected to start operation by Sep. 2022.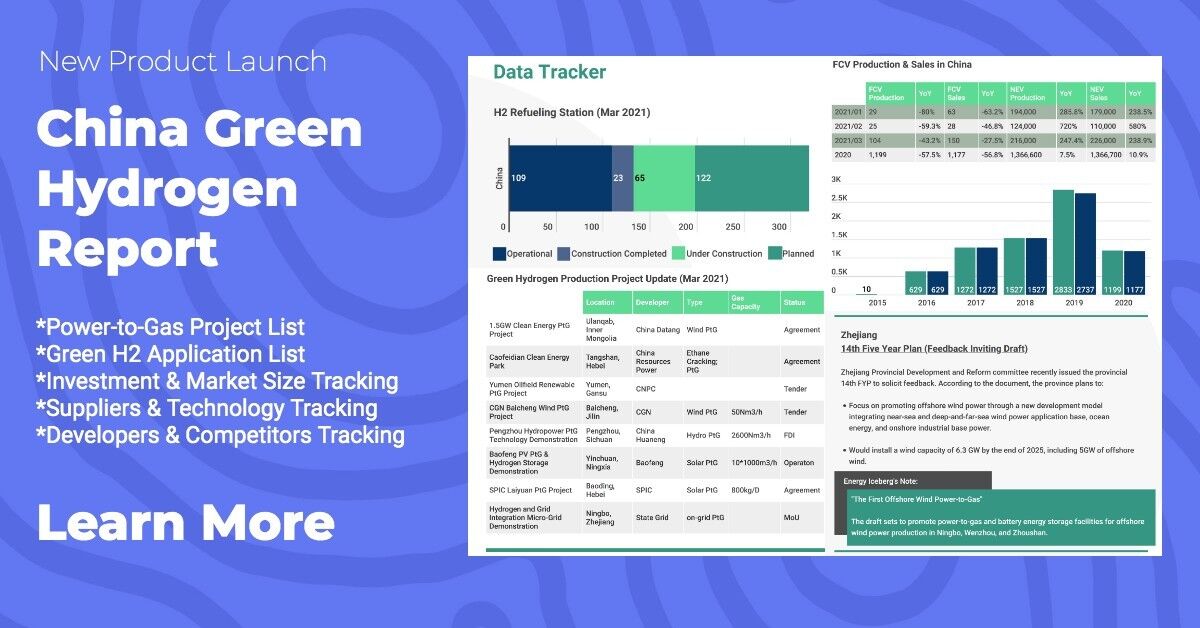 China Speed Up the Industrialization of Hydrogen Fuel Cell Ships
A hydrogen fuel cell ship, China Three Gorges I (Sanxia I), designed by the 712th Research Institute of China Shipbuilding Industry Corporation (712th Institute), recently passed the design review.
The ship was developed and designed by Wuhan Changjiang Ship Design Institute, with the fuel cell system developed by the 712th Institute. The project is a catamaran transport vessel powered by hydrogen fuel and supplemented by LFP batteries, mainly used for work in the Three Gorges Reservoir area. The total length and depth of the vessel are 49.90m and 3.20m. With a designed draft of 1.75m, the vessel could reach 28km/h speed, and the hydrogen fuel cell rated output is 500kw.
Energy Iceberg's Note: Fuel cell ship industrialization and R&D activities have been very busy in the past months in China.
Jus a week ago, Guangdong fuel cell company, Himalaya Hydrogen Technology, and Jianglong Ship Building established a Hydrogen Fuel Cell Ship R&D Center. in Zhongshan city of Guangdong. Himalaya is also known to carry out a FC ship demo project in Guangxi provine with Guilin Wuzhou.
China Develops Liquid Hydrogen Equipment with Domestic IP
The 101 Institute of China Aerospace Science and Technology Corp announced to have developed China's first-of-its-kind hydrogen liquefier based on helium expanders with domestic intellectual property. The liquefier has made the first LH2 production last week with 97.4% parahydrogen content. The firm said that the equipment is of 90% local contents including the helium expander, the controlling system, air compressor, and orthohydrogen-parahydrogen conversion equipment.
Energy Iceberg's Note: core LH2 technology and equipment have been highly restricted. The development is a significant milestone and could boost domestic LH2 projects and investment.
Energy Storage & Battery
LFP Battery Material Manufacturers Step up Capacity Expansion
LFP battery material suppliers are gearing up for another round of manufacturing capacity expansion, Chinese industry media reports.
Last month, Baosheng Holding of Hunana concluded a deal with Ningxiang of Hunan province to invest ¥12b to construct 200,000 tonnes/year LFP cathode materials making production lines. The product will be supplied to Contemporary Amperex Technology, BYD, and other Chinese battery makers.
Besides the deal, several other LFP material suppliers announced plans to construct new productions list in 2021H2.
Pumped Hydro Storage to 4X in 10 Years
The National Energy Administration (NEA) last week issued the Mid-to-Long-Term Pumped Hydro Storage Development Plan (2021-2035).
The plan sets ambitious goals for the sector:
Beijing aims to double China's pumped hydro storage in five years and 4X by 2030, in a bid to provide solid energy storage needed to make its ambitious renewable energy expansion viable.
The installed capacity will rise from 31.5 GW at the end of last year to more than 62GW by 2025 and to 120GW by 2030.
Currently, the sector's investment is driven mainly by the two grid companies–SGCC and CSG. The plan also proposes to encourage private capital investment in constructing pumped storage.