Last year regional governments policy triggered an investment boom in China for hydrogen, as 14 provincial-level governments and 30 municipals unleashed hydrogen development plans.
Among the bullish development plans, a shared interest is on infrastructure building, especially, on hydrogen fueling stations and midstream transportation and storage technology.
While the result may look encouraging, the sector is still far from commercialized. [This is part 2 of our 2019 review of China's hydrogen market, please check out part 1 regarding hydrogen production and investment trends. ]
Hydrogen Fueling Network in China: Development in 2019
Since 2016, the number of hydrogen charging stations have been doubling every year. By 2019, China has built up 61 hydrogen fueling stations, of which 52 in operation, six soon to take off, and three decommissioned.
Meanwhile, 72 projects are currently under construction or in the planning stage.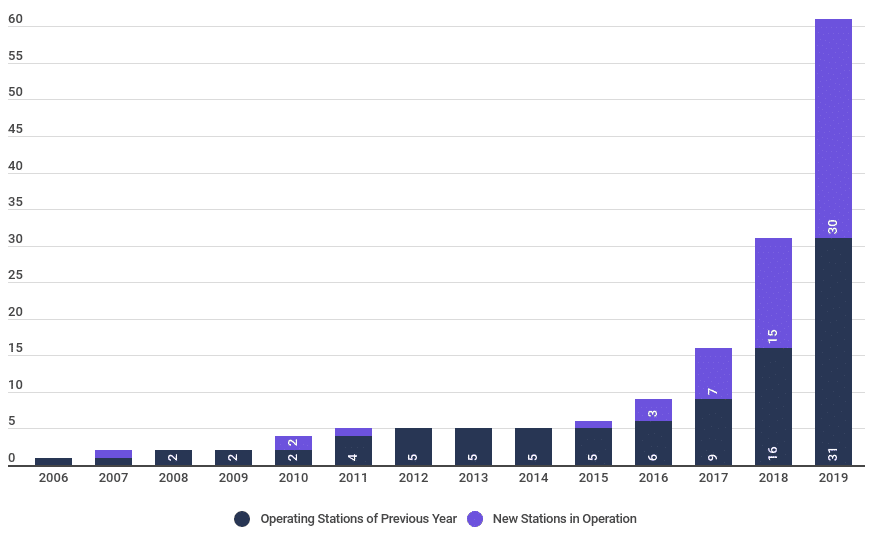 Given the strong momentum, it is safe to assume that the market could achieve 100 charging stations by the end of this year, a target set two years ago. (Moving on, the industry aims at 350, and 1,000 stations build by 2025 and by 2030, respectively. )
Below companies have been the main developers and investors of China's hydrogen fueling stations:
Conventional energy players with fossil fuel business: Sinopec, Shenhua (CEIC)
Local gas companies: Sichuan Gas, Foshan Ruihui (a subsidy of Foshan Nanhai Gas )
Universities with hydrogen R&D capability: Tongji University is the leading player
Private fuel cell technology provider: Shanghai Hyfun Energy Technology Co., SinoHyTec Co. (Yihuatong), Sino Fuel Cell (SL Power), Tomorrow Hydrogen, Houpu clean Energy (teamed with Air Liquide)
FCV companies: Zhengzhou Yutong Bus Co., Toyota
Shanghai Hyfun Energy Technology Co is considered a leader in the sector, with more than ten fueling stations already built. But the market is expecting newcomers—especially the state-owned energy players like Sinopec and China Shenhua—to pay a larger role. [READ MORE to Understanding Who is Investing in Chinese Hydrogen Sector. ]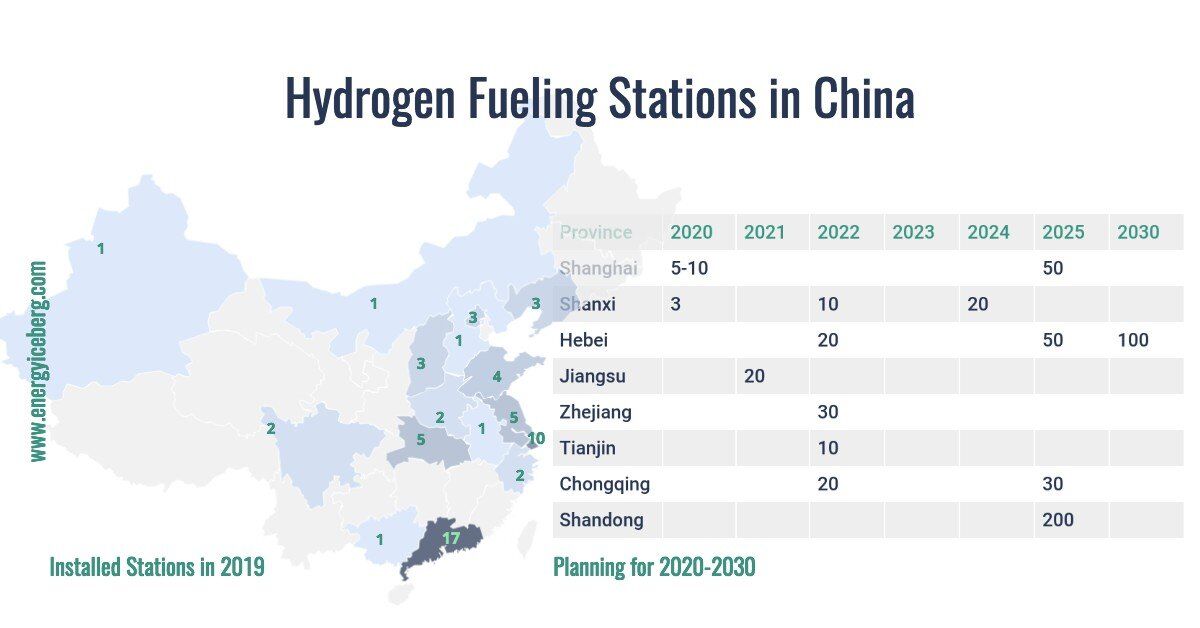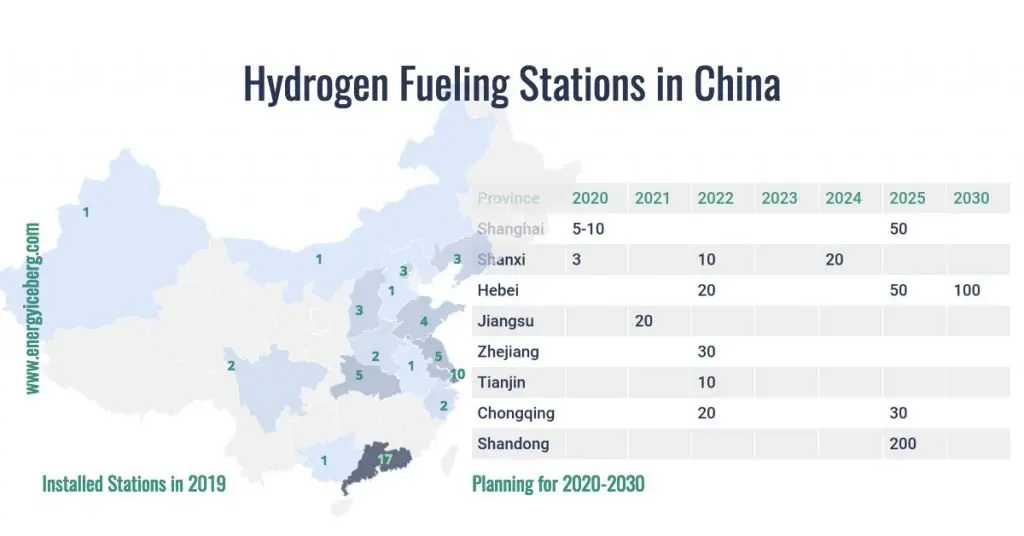 Hydrogen Fueling Infrastructure: Economics Difficulties
While the number of new build stations may look impressive, the investment and commercial development of fueling network is largely inadequate, due to the limited economic case.
Investment in fueling stations, like many other infrastructure investments in the country, faces challenges of complex regulatory procedures. And the large capital investment, cost of land use, and the long payback period are also barriers.
The midstream sector is far from reaching commercialization, as most fueling stations serving only as research, demonstration purposes, or for private usage.
Right now, the investment cost for a typical hydrogen fueling station in China is around ¥22mn, of which 77% is spending on equipment (compressor, fillers, and storage tanks) while remaining on construction. Besides that, the land cost is around 6mn-60mn for the station.
While the development of fueling network and FCVs is a "chicken-and-egg" issue, the regional government are well aware of the importance to provide policy and financial support to encourage midstream investment.
Typical regional subsidy for fueling station investment is around ¥5mn (in the case of Guangdong Nanhai—the highest subsidy so far is ¥8mn), with which investors would still need to get through a 6-8 year payback period. The period is already incorporate a gad price subsidized by the government, too. [READ MORE: Regional government's subsidy rates for FCVs, Explained. ]
Meanwhile, similar to EVs in its early-stage development, hydrogen sector faces difficulty in securing land right and good locations, as most players right now are private. In that sense, state-owned energy companies like Sinopec and China Shenhua have unique advantages in the market.
Gas and Liquid Refueling: Technology Constraints
China remains lagging in hydrogen's storage and transportation, which also hamper the development of the hydrogen midstream. [READ MORE: A detailed comparison of Chinese hydrogen value chain compared to global leading practices. ]
Fueling stations in China now mainly embarked on high-pressured gas storage, while leading practices in the US and Japan have widely adopted liquid hydrogen storage and fueling system.
Both the industry and Beijing's authority show great interest in advancing liquid storage and fueling technology. Chinese firm SinoScience FullCryo has kicked off the planning of the first-of-this-kind project since 2018.
The firm sealed a deal previous with Air Products to develop a liquid fueling station in Guangdong, said to be of 500kg/day fueling capacity (extendable to 1,500kg/day). The project was previously expected to complete by 2019, but that did not happen.
Although this liquid fueling plant has yet to materialize, some state-owned energy companies are preparing to take part in the liquid product development. Last year, Zhejiang government-owned energy conglomerate Zheneng Group announced to develop a hydrogen liquid demonstration facility in Jangxing. And State Power Investment Co also reached a deal with SinoScience FullCryo to support the latter's liquid product R&D.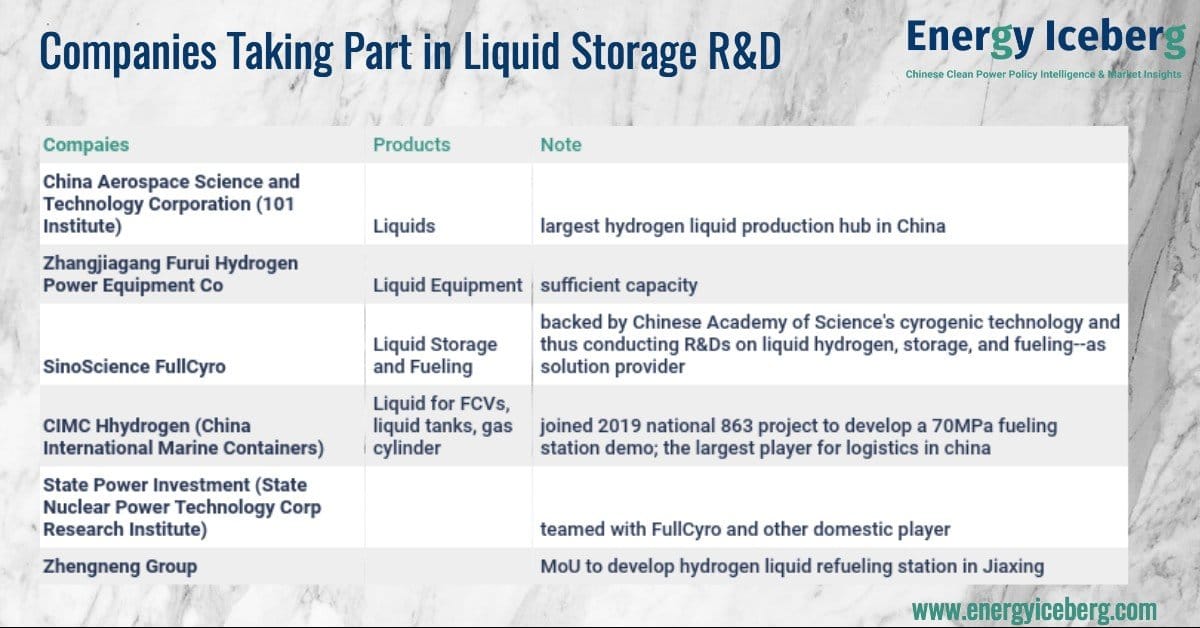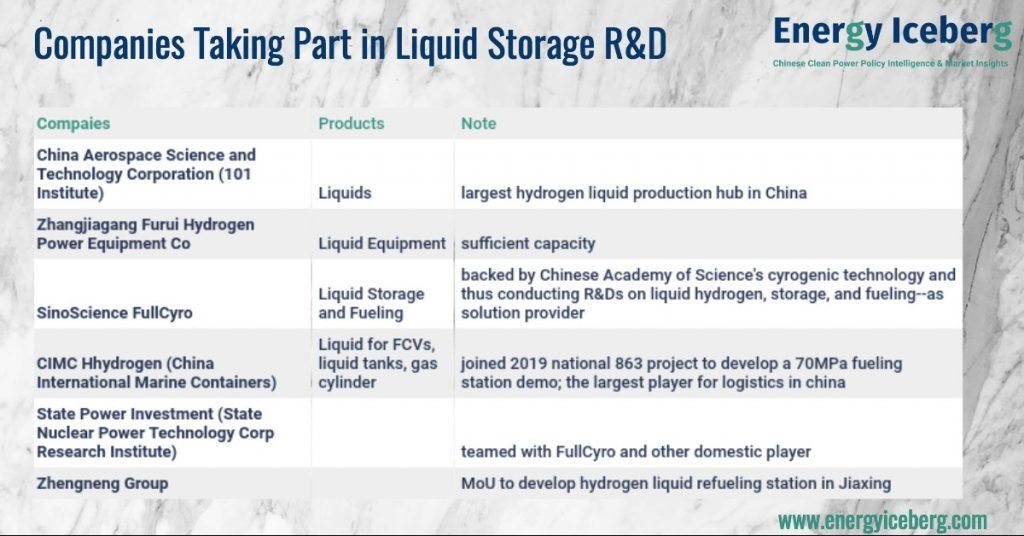 The main reason for the growing interest in exploring liquid storage and refuelling relates to the constraint of China's current gas fueling technology.
So far, China has been lagging in the R&D of high-pressure gas fueling. For instance, the market so far embarks mainly 35MPa gas, compared to 70MPa carbon fibre winding cylinder already utilized in the US and Japan.
Moreover, China relied on foreign hydrogen fillers and compressors (PDC, Andreas Hofer, etc.) for storing hydrogen gas. The lack of domestic technology is a worry about Beijing's decision-makers. While the gas storage and fueling will remain to be the main technology option in the near term, Beijing would push the sector to seek breakthroughs in both liquid fueling facilities and on critical gas fueling equipment.